Recommendation: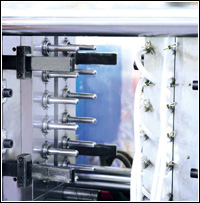 Special mould maker with 18 years (from 1987) experience and know-how in making multi-cavity (up to 48 cavities) hot runner PET preform moulds.

Mould parts machined by CNC machine tools.

High quality steel.

New designed tail-free mould enables fully automatic running and lower labour cost.

Patented OAS(Off-center Adjustment System).

Patented MTC(Mould Temperature Controller).

Offer perfect preform design.

Offer different design with different prices to meet different markets/buyers: